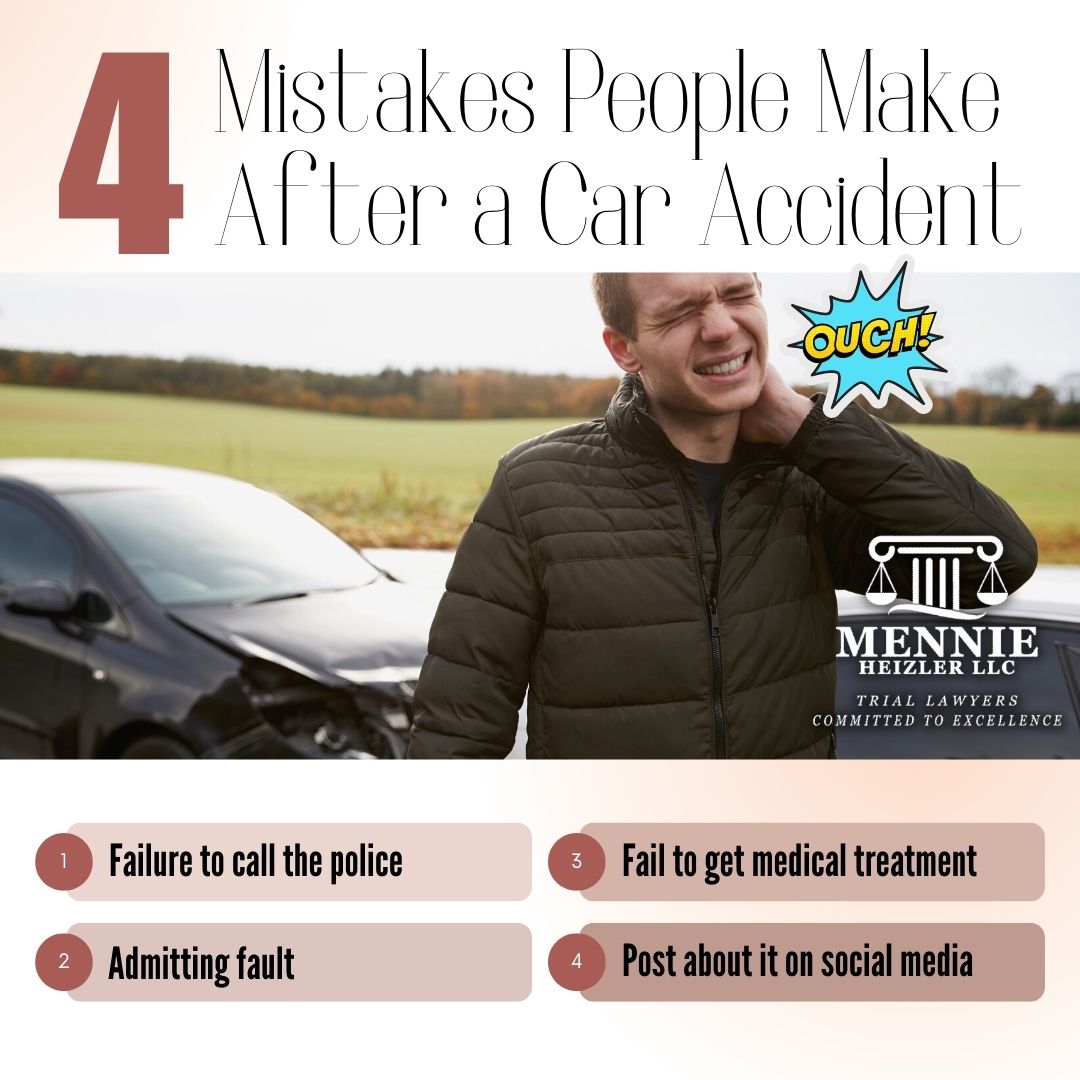 People who are NOT prepared make very common mistakes after being involved in a car accident. These errors can be very costly and may harm their chances of being compensated by the other driver or insurance company, even when the fault lies solely with that driver. By knowing what mistakes to avoid, could save you thousands of dollars in damages.

But we're here to help. Take a look at our list of four common mistakes that drivers make after a car accident. Once you know what NOT to do after a car accident, you can consider what you SHOULD do instead!
Mistake 1: Failure to Call the Police
When it comes to what not to do after a car accident, failing to call the police is the first thing on the list. In New Jersey, you must file an accident report within 10 days Under New Jersey's Division of Motor Vehicles law, if a driver is involved in a car accident, he or she is required to report it to law enforcement if the crash involved more than $500 of property damage. In other words, if you're ever in a car accident and it looks like the property damage is at least $500, you must report the crash to the police. Even a minor fender-bender may have more than $500 worth of property damage, so it's always best to call the police to the scene.
As you're working with the insurance companies, a police report and evidence of a 911 call could be used as support for a claim. It may seem intimidating (and the other party may try to insist you don't) but filing a police report is more than a way to document evidence in your favor — in New Jersey, it's the law.
Mistake 2: Admitting Fault
You should not admit fault at the scene or following the incident until speaking with a car accident attorney. If you admit fault, insurance companies have legal responsibilities to cover damages. Your own insurance will have to pay for the damages to your and the other party's property.
There are several reasons why you should not admit fault after a car accident, including:
1. You May Be Emotionally Traumatized
2. Changing Your Statement Is Difficult
3. Admitting Fault Can Hurt Your Personal Injury Claim
4. You Do Not Have All the Facts
This is another reason why it's so vital to get a police report. With a report, an informed third party can examine the environment in a way that you may not be able to. Insurance adjusters may go through a similar process, and through the combined analysis of authorities like these, blame can be assigned.
A statement admitting fault will work against you if the claim is taken to court. And taking blame prematurely could result in citations and rate hikes that you could've avoided otherwise. Additionally, be super careful about giving a "recorded statement" to any insurance company, even your own. It's for the insurance company's benefit, not yours.
Mistake 3: Fail to Get Medical Treatment
When someone is injured due to someone else's negligence, the victim is entitled to seek compensation covering the costs associated with the injury. In order to ensure that the victim receives full compensation for medical expenses, lost wages, out-of-pocket costs, and psychological damages due to the accident, it is essential that all expenses be carefully tracked.
Accepting immediate medical treatment is one step to catching any hidden injuries and making a speedy recovery. This could include an initial medical review by an emergency first responder and an ambulance ride to the hospital for more extensive review and treatment. Not only does accepting such treatment limit the chance that a hidden injury such as a concussion or internal bleeding will be undiagnosed and lead to potentially serious harm, but it also is a step toward receiving full financial compensation for your injuries.
Mistake 4: Post About It on Social Media
If you've been hurt in a vehicle accident, the insurance company's attorneys will likely access your social media accounts. Defense attorneys have the right to review public posts to gather relevant evidence. These posts might include photos, conversations, and status updates that may be used to undermine your injury claim. The best way to prevent the insurance company from using your social media posts against you is to avoid posting anything at all. Staying away from social media may not be easy, but it's the best way to ensure that you aren't jeopardizing your personal injury claim.
Therefore, an essential rule to follow is to refrain from posting evidence that can be used against you. In other words, do not post any details of your accident on any form of social media, because the defense attorney and insurance company will: Demand access to your
account.
-------------------------------------------------------------------------------------
What to Do After an Accident
While you should avoid the mistakes above, there are some things that you SHOULD do.
These include taking pictures of the surrounding environment immediately after the crash, exchanging information with the other driver, gathering contact information from any witnesses that observed the crash, and reaching out to a qualified personal injury lawyer right away.
-------------------------------------------------------------------------------------
If you or a family member has been injured in a car accident contact our personal injury attorneys at Mennie Heizler Law Group at (732) 481-9100. They have been aggressively pursuing and winning cases on behalf of their clients for the past 35 years. Call us or request a free consultation online today!